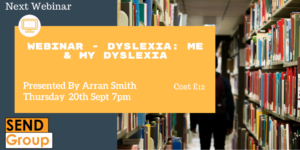 Before the summer holidays I was saying that I can't wait until August, it can be quiet and I'm going to be able to get some work done. That didn't happen, my timeline got changed and more activities and events got put into my diary.
I did have some time to think in August though, and this is when I felt that I needed to do a webinar that was a little bit more than just me and my technology. I wanted to go back to the concept of 'what is dyslexia?', But actually looking at that concept from a dyslexic's eyes.
I'm really excited that I'm going to be able to share my dyslexia story and concept with you all on Thursday, 20 September 2018.
The webinar should be thought-provoking. I will be looking at the concept 'me and my dyslexia', talking about 'what is dyslexia?' and the feelings delving into how it affects my life, and how I cope making sure that we understand the positivity is and of course using them positivity is to grow confidence and self esteem.  Exploring concepts along with feelings thoughts and knowledge along with experiences could really help those that work with dyslexics understand what it's like. Thinking about walking in someone else's shadow or looking through their eyes are probably really good metaphors to where we want to go.
I really hope you can join me on 20th September for our live webinar titled dyslexia me in my dyslexia to find out more click here