Preparing for September: Creating the Inclusive Classroom to Maximise Learning.
We have been working with Beccie Hawes for over 2 years and we are delighted that we are able to present you with a unique webinar series called Preparing for September.
Beccie has worked in all aspects of Special Educational Needs including mainstream, additionally resourced provision and specialist settings. She has extensive experience as a SENCo, Inclusion Manager and Lead Local Authority Advisory Teacher. Beccie is also an author of many books and is the editor of SEND Bitesize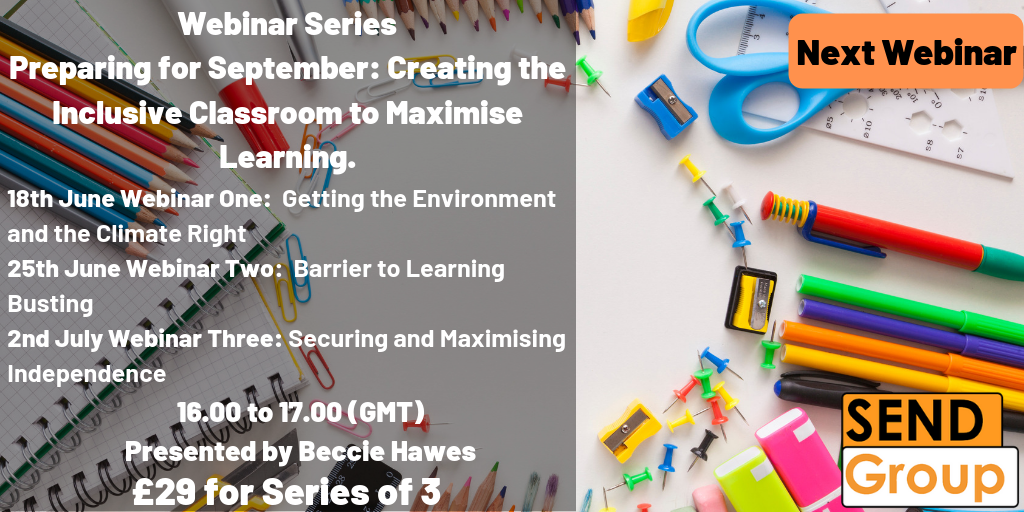 18th June Webinar One: Getting the Environment and the Climate Right
What does the inclusive classroom look like?
Getting the environment right for all learners
Creating a positive, socially and emotionally healthy climate for learning
25th June Webinar Two: Barrier to Learning Busting
Differentiation, scaffolding and the right support.
Practical strategies and approaches.
Lessening cognitive load.
2nd July Webinar Three: Securing and Maximising Independence
Learning to learn.
Self-help strategies.
Developing confidence.
The plan is to explore how to create the right learning environment to ensure that the classroom is ready to be as inclusive as possible in readiness for September.
My underpinning principles for the three webinars are that if the environment, climate and approach from the very start is right then all children, regardless of their needs, will flourish and be happy, independent learners. I also want to make clear that what works for children with SEND will be of benefit for everyone.
The webinars will be particularly useful to practitioners who are thinking ahead to receiving their new class in September.
Webinar one will look at how to create and inclusive environment that supports pupils in all aspects of their learning but especially making sure that the climate is right to promote positive social, emotional and mental health.
Webinar two will explore the types of scaffolding that we can provide to support effective differentiation and lessen cognitive load.
The third and final webinar will focus upon building independence.
Each webinar will offer practical, easy to implement solutions to help September get off to a very smooth start.
Presented by Beccie Hawes
£29 for all 3